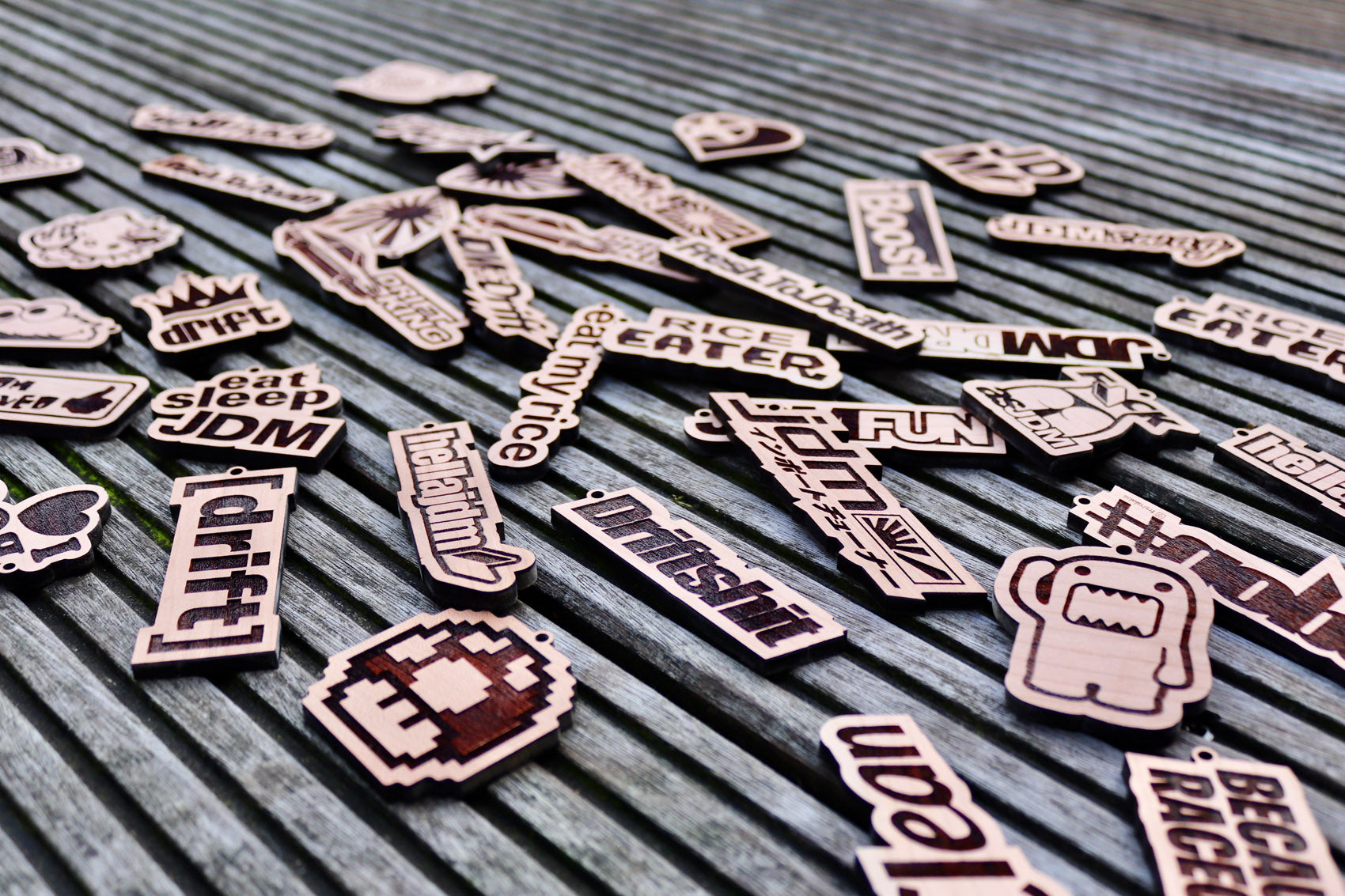 Product info
At Frshslabs we're tired of single-use air fresheners that don't suit your car or lifestyle. Each slab is custom made using solid wood and re-scentable, so you can stay forever frsh, just the way you like!
Sustainability
We care about our planet as much as we care about our cars. Therefore we made sure each frshslab is biodegradable and sustainable.
*Even though frshslabs are biodegradable, please dispose properly and with care.
Design
Engraving: All Frshslabs are engraved on both sides, for a high end look! Whenever possible, we ensure text remains legible on either side.
*Some slabs will be mirrored, if they are asymmetric in shape.
Materials
Wood: We offer three different types of wood; Cedar (Light), Cherry (Medium), and Walnut (Dark). All our wood comes from local sawmills and we primarily use cut-off's that would otherwise get thrown out. This way we reduce waste and the impact on our planets resources.
Hanging String: Each type of wood comes with a different color leather string, to perfectly match the finish of your frshslab. No artificial color is used and our leather is locally sourced.
Scent Oil: All our oils are paraben free and vegan friendly. Our fragrances are a sophisticated blend of natural, nature identical, and aromatic materials. They are not tested on animals or contain any animal derivatives.
Scent delivery
A frshslab typically holds it's scent 8 to 10 weeks, depending on; how sensitive you are to the fragrances, the ambient temperature, if you often drive with the windows down, or the size of your car.
Some say it only lasts 3 weeks, others report 20+ weeks. Regardless, re-scenting your frshslab is easy!
How to re-scent your frshslabs?
Remove the frshslab from your car, to make sure you don't drip oil in unwanted areas. From here you have two options: either lay it on a flat surface with a napkin underneath, or place it in a plastic bag. Apply 5 - 10 drops on your frshslab, until evenly coated - You can add more or less oil to your liking. Once the wood completely absorbs the oil, or is saturated, you're ready to hang it back in your car.
Note: Avoid excess oil on your frshslab. Use a napkin to pat the wood dry as needed, before hanging it back in your car!
How to re-scent your frshslabs puck?
Remove the puck from your car, to make sure you don't drip oil in unwanted areas. With the lid open, squirt 5 - 10 drops onto the wood. That's it, you're ready to place it back in your car.
Note: Avoid placements slanted more than 45* or inverting your frshslabs puck, so that oil within does not seep into unwanted areas.
Shipping
We ship all frshslabs products via USPS. To ensure that your package reaches you, all orders have a tracking number. We'll ship your order as soon as possible, usually within 5 working days. Please allow 2 working days for delivery within the United States. If you need an urgent delivery, please contact us here.
We're proud of our reasonable delivery rates! We only charge you what we need to cover the postage and packaging costs. Everything is calculated according to weight and distance traveled at the end of the checkout process.
Returns
We hope that you're happy with your frshslab, but if you have a problem here's what you need to know;
When a frshslab is ordered it is custom made to your specifications, therefore we are unable to accept returns or issue refunds.
But if there is an issue, or you're unhappy with your order, we'd love to hear from you! Please give us the opportunity to make things right, and reach out to us. We strive to satisfy and keep our frshslab community frsh.